Immediate download available.
QuickBooks Premier is a financial accounts package for small or medium sized business. It is very widely used in UK and Ireland.
Pro desktop handles multi-currency accounting, is multi-company at no extra charge and multi-user ready. QuickBooks has a lovely interface and is an easy to use product packed with functionality.
What's new in QuickBooks Desktop for Windows 2019
QuickBooks Desktop Pro and Premier
Multi-Monitor Support
Increase your productivity significantly with Multi-Monitor support which allows you to use QuickBooks Desktop on up to three monitors. Now you can place your customer list on one screen while creating invoices on the second or third. Tailor your monitor setup to your work style and gain more insights from being able to view more reports at the same time.
.
Search in Chart of Accounts
Find an account or sub-account faster with an added search bar in the Chart of Accounts. You can search by account name or account number making large Chart of Accounts easier to manage.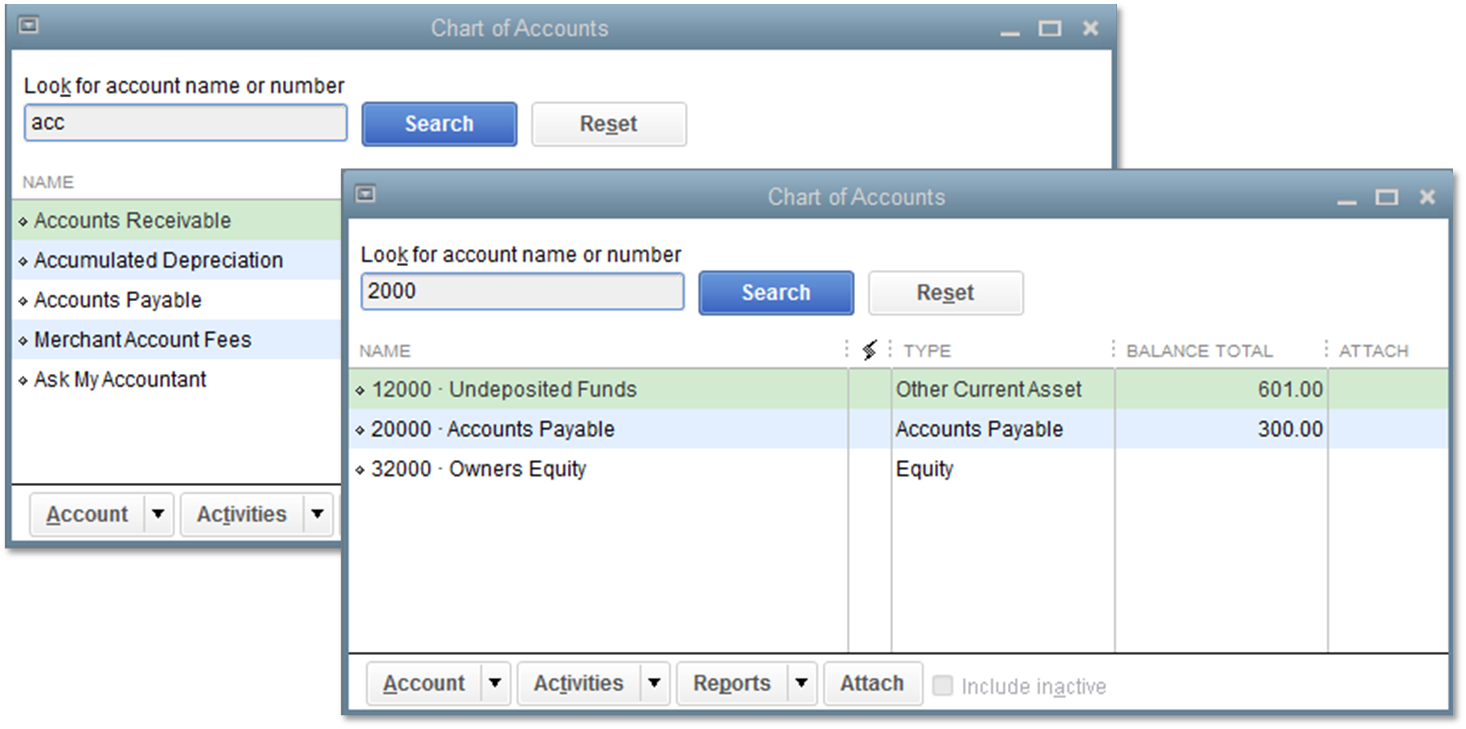 Cash/Accrual Toggle
Analyze your business from different angles in the same report. With just one click in the report window you can switch to a cash or accrual basis and easily switch back and forth between the two. It's great for accountants or businesses that report in one basis and file taxes in another.
Note: This feature is not available on all reports.

Past due stamp
Get customers to pay you faster with a Past Due stamp for invoices. QuickBooks can automatically add a past due notice on overdue invoices for emailing or printing. If you don't want to add the notice to a specific invoice, simply toggle the notice off with one click.
Inventory Reports
Add flexibility and insight to your business with newly customizable inventory reports and get better tracking of your inventory with additional fields.
The three customizable reports are:
Inventory Valuation Summary
Inventory Stock Status by Item
Assembly Shortage (available only in Enterprise)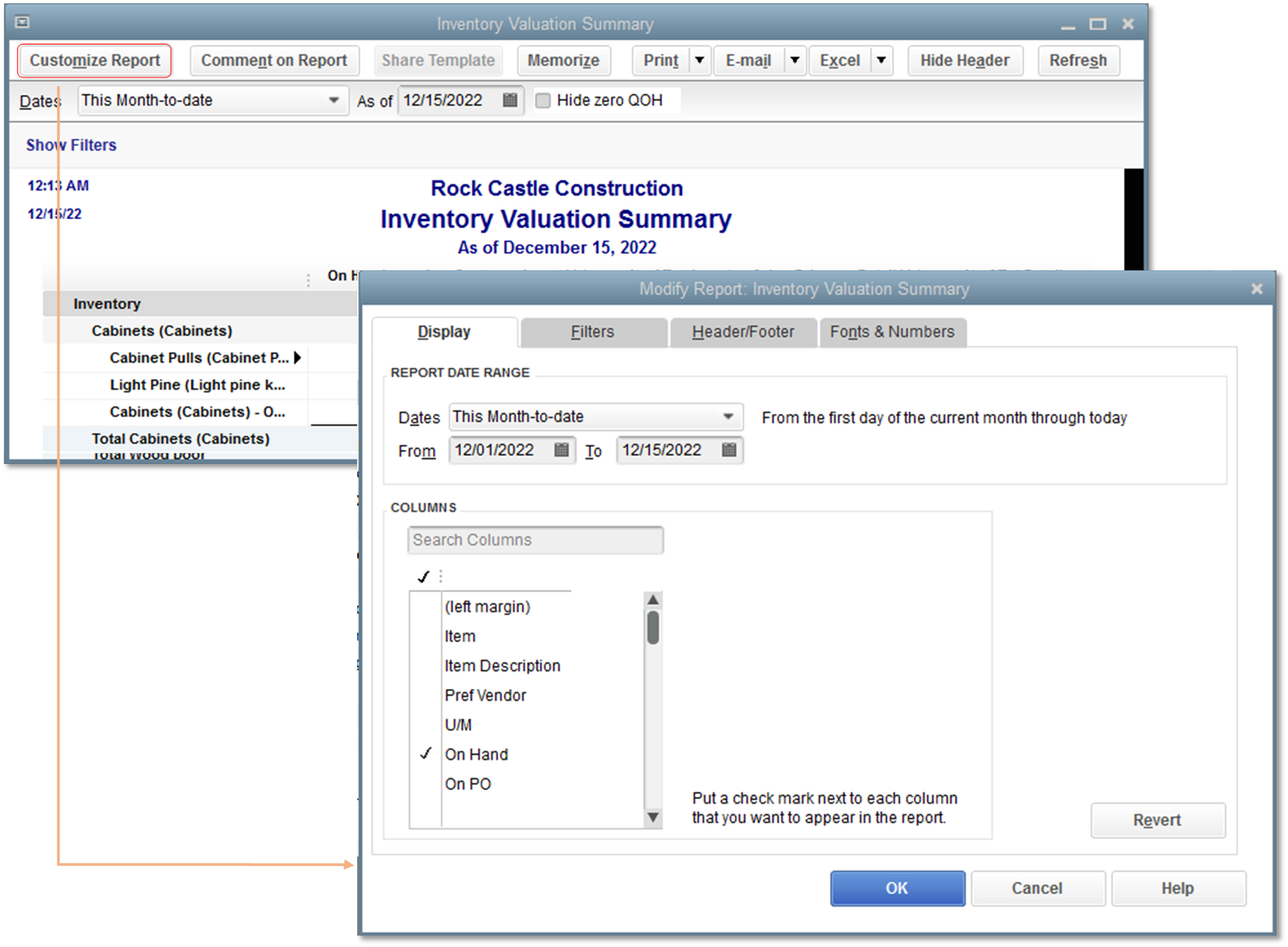 Copy and Paste Line Keyboard shortcuts
Be a lot more efficient by using keyboard shortcuts when copying and pasting lines in an Invoice. Use Ctrl+Alt+Y to copy a line and Ctrl+Alt+V to paste a line on an invoice.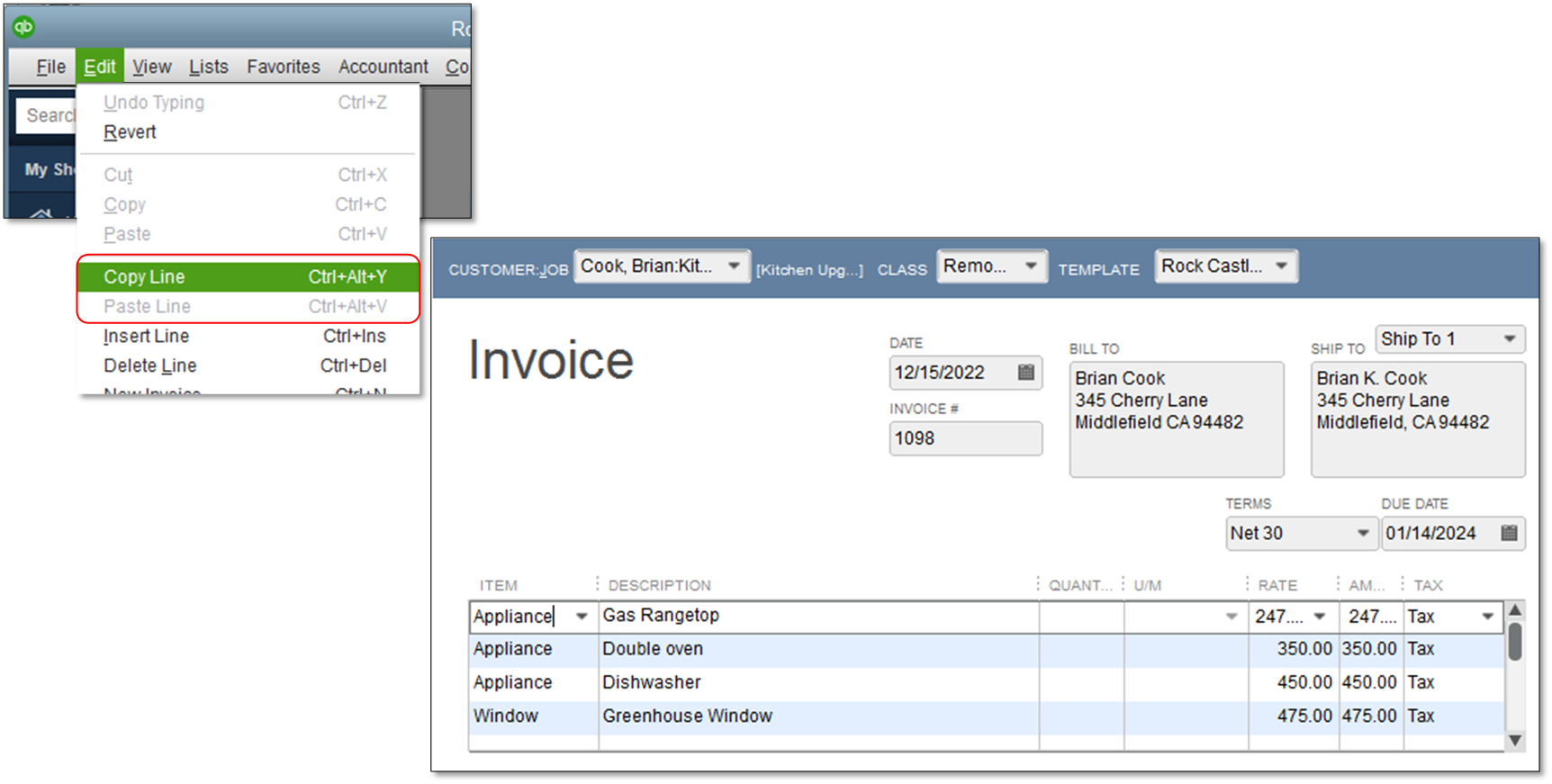 For a complete list, see Keyboard shortcuts for QuickBooks Desktop functions.
Webmail enhancements
Enjoy the updated security with improved multi-factor authentication when sending emails from Gmail, Outlook, Hotmail and Windows Live through QuickBooks Desktop.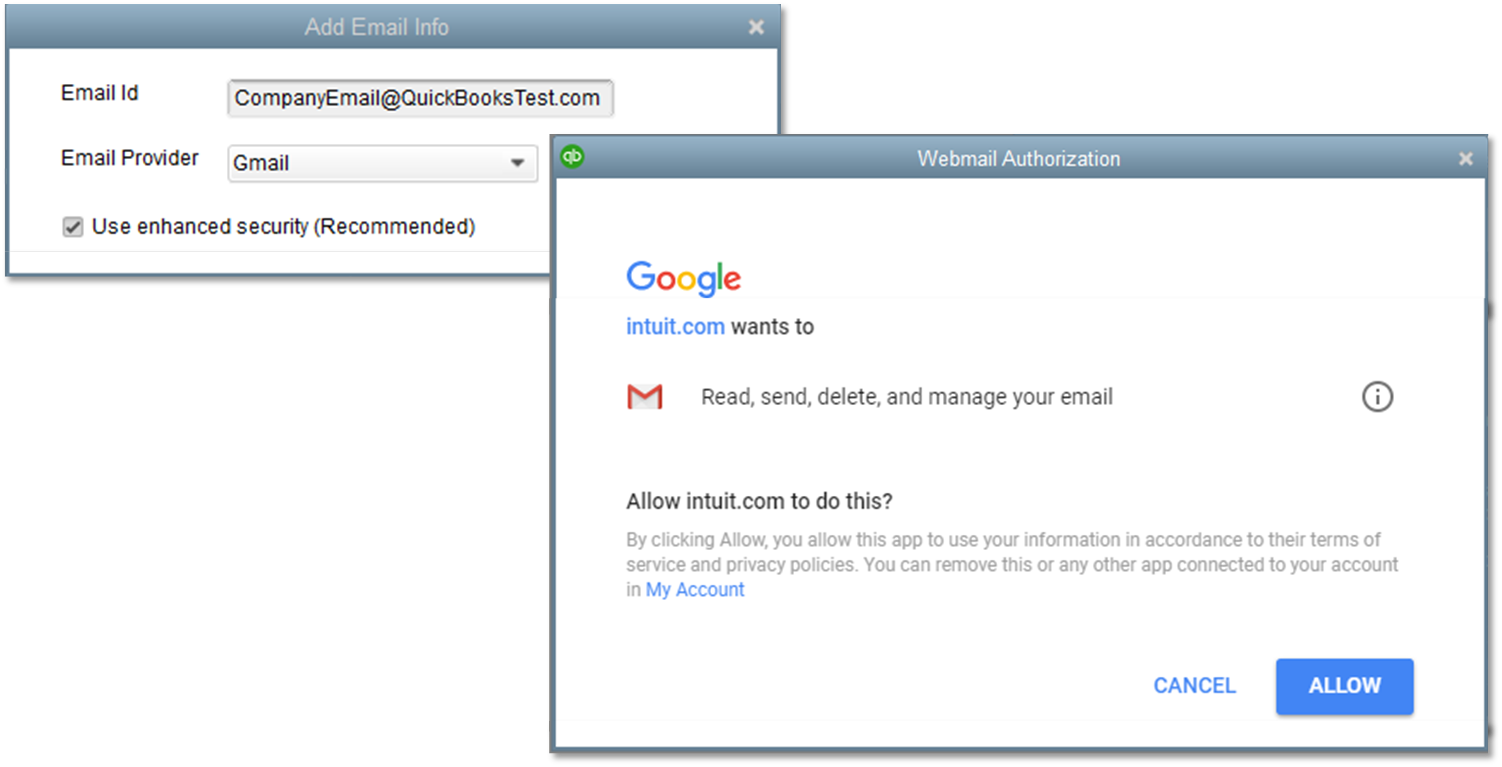 Merge Duplicate Vendors (Premier Accountant)
QuickBooks Desktop Premier Accountant 2019 now allows you to easily merge duplicate vendor names through the new Merge Duplicate Vendors feature which allows you to easily combine up to four vendors, consolidate all transactions to a master vendor and update information as needed
Hugely Improved Reporting Layout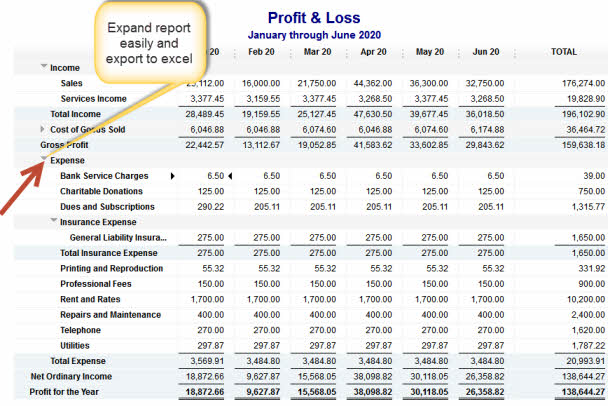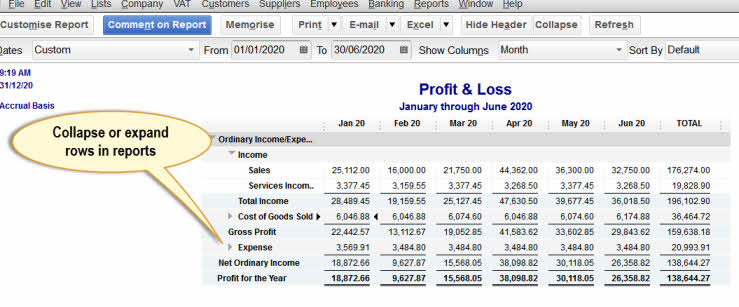 Add Comments to Reports – for Collaboration / Action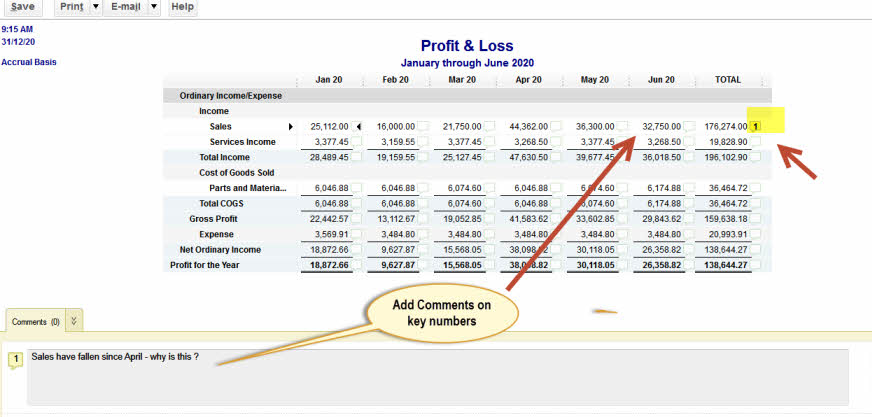 Improved CRM type Functionality
Now in QuickBooks you can log last call event, last document sent, last correspondence. You can even set follow up actions/ to dos. While it's not a fully fledged CRM system – it's certainly offers a lot of what's really required.
You can also get a review of what you and colleagues have as open/urgents to-dos.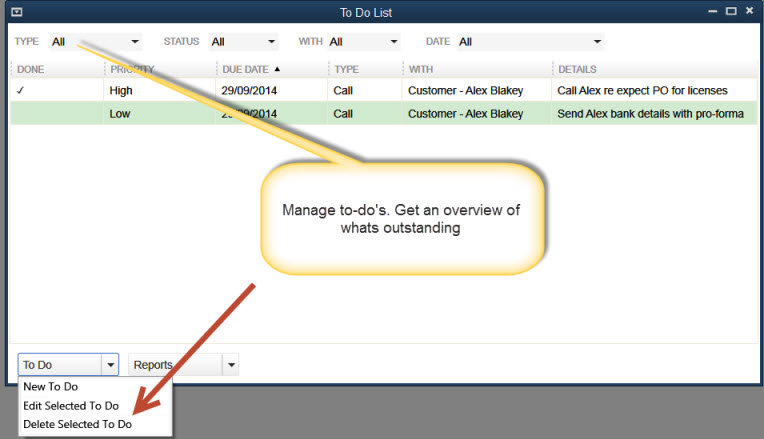 Document Centre
Now you can attach documents (supplier purchase invoice, delivery docket, customer POs) when you enter an invoice or bill in QuickBooks. – New much improved interface
Easily track your sales leads
The QuickBooks Lead Centre is a fast, efficient place to log every lead your business gets.
Whether it's a stab in the dark or a dead cert, it helps you follow up every single opportunity.
Log and track new leads – mark them hot, warm or cold
When a potential customer calls, you can pull up their details in moments
Made the sale? Convert a lead into a customer without re-entering information
Entering customer and supplier Invoices in QuickBooks is very easy. We like the memorised transaction facility (so you can automate many tasks).
As well as complete time and job-costing accounts, it offers the ability to generate estimates and also a proforma invoice.
There is a great budgeting feature in QuickBooks – backed up by useful variance analysis reports.
QuickBooks brings improved VAT management with a selection of VAT codes for the UK and Ireland as well as the ability to add whatever VAT codes or VAT agency (eg Collector General) that you want.
The layout of templates (PO, Estimates, Invoices, Statements) can be customised easily. If you want you can add your logo or even choose a different invoice format depending on the type of customer you are quoting/selling to.
There is good integration with MS Excel for export and import of data.
This product is ideal for any growing business and very easy to set up. The interface is very intuitive and easy to use. QuickBooks is remarkably flexible (e.g you can delete a transaction) yet at the same time you can lock down specific parts of your accounts (close periods or stop someone from accessing sensitive areas).
Designed for SMBs with up to 5 users actively working on a company file at any one time. You need to buy a license for each user.
Many accounting practices use QuickBooks because there is no restriction on the number of client companies they can set up. Some very reputable firms are using it. Volume licensing available from AxonWare.
AxonWare can also provides onsite training and/or web consulting – to help you get up to speed quickly.
QuickBooks comes with an integrated PDF writer – so you can email invoices and statements to customers. It also allows you to print advice slips easily.
With QuickBooks you can really keep your finger on the button. With a variety of genuinely useful financial reports to help run your business e.g. run a Profit & Loss for the period report – toggle between accruals or cash basis . Run a P&L month to date report, tick a box and you can compare side by side with the equivalent period from last month. With two clicks you can turn this to a Quarterly comparison report.
Another useful one is the Pending Sales Report: great for those sales that might come in – but the money hasn't hit the bank yet. In a second you can run a tabular summary report by period – so you can review month on month progress.
Remember the whole purpose of any accounts system is so you can retrieve really useful information – to help make better decisions. One of the best features about QuickBooks is its ability to pull out the numbers painlessly. Its ability to track by class or categories is also very useful.
The product is suitable across a wide range of business types: financial institutions, pubs, stud farms, builders, architects, graphic design, real estate, credit unions, charities / NGOs – you name it.
The online help system (hit your F1 key) is probably one of the best on the market.
Intuit claims that QuickBooks is the most widely used small business accounting software package in the world (over 3 million users) and there are over 1500 Professional Advisors in the UK and Ireland. AxonWare has over 9000 QuickBooks users and growing.
While other packages may have a good brand name – more and more companies in Ireland and the UK are finding that QuickBooks is a better fit. Do a price and features comparison and decide for yourself. Intuit have priced QuickBooks very aggressively in an attempt to win market share. However this product has a lot of functionality built into it.
AxonWare is a Intuit Gold Professional Advisor. Don't hesitate to put your questions our way on this product. We offer same day delivery by electronic download. (Usually within 10 mins on workdays!)
If you need an Irish payroll sofware package, we recommend
Thesaurus Payroll.
• Easy to set up, use & learn
• Company Snapshot – instantly see where your business stands
• Track sales, expenses and profit
• Multi-Currency Accounting
• Multi-User ready
• Multi-Company (no extra hidden charges)
• Inventory management made easy
• Handles VAT – improved defaults for the UK & Ireland
• Send invoices as PDF (and batch send)
• Excellent reports – drill down to individual transactions
• Cool graphs
• Export to Excel as numbers (not text)
• Import Suppliers, Customers and stock items from Excel
• A fantastic discounted price from AxonWare • Additional licenses are also available at a reduced price
QuickBooks Technical Support
With QuickBooks you get 30 days free support. We do recommend that you consider buying extended (12 months) support.
If you have no experience of QuickBooks or are not very technical we advise taking a support plan.
This Intuit annual support plan is provided by Intuit's dedicated customer support team.
In addition AxonWare can help solve many problems (either onsite or by phone) at an hourly rate. AxonWare also offers QuickBooks customised training to help you get up to speed. Once again this can be at your location or by phone and web.
Time saving features for you:
• Client Data Review: Write off invoices and reclassify transactions in batch (versus individually), easily see changes to account balances on one screen and more — all while multiple users access the same file.
• Excel Data Import: You can now save worksheet formatting during export. When you access the report for a new time period, simply update the saved file and all formats will be automatically applied to each new report.
• Quick Start Up: Reduces set up steps from 40 to 4 – and includes the ability to import key business information in one click.
• Batched Invoicing: Clients can now create an invoice once, then choose which customers get that invoice in a batch – without creating each invoice separately.
Operating systems supported
• Windows 10,8.1,7 SP1 all editions including 64-bit, natively installed
• Windows Server 2016, 2012 R2, Windows Small Business Server 2011 R1, Small Business Server 2008 SP1
• Windows Server 2008 R2, Windows Server 2008, and Windows Server 2003 (SP2), including 64-bit, natively installed

XP/Vista and MAC not supported
Database Servers:
Windows: Windows Server 2016, Windows Server 2012 R2, Windows Server 2011 SP1, Windows Server 2008 R2 SP1, Windows 10, Windows 8.1 (update 1) or Windows 7 SP1 (Enterprise and Professional editions only), natively installed. Linux: When using QBES Database Server-only installation – OpenSuse 42.2, Fedora 25, Red Hat 7 (Update 3)
Hardware and operating system requirements (client and server)
• 2.4 GHz processor minimum
2.5GB of disk space (additional required for data files) • 4 GB RAM minimum
• Display optimized for 1024 x 768 screen resolution or higher with up to 2 Extended monitors
• Best optimized for Default DPI setting (96 DPI or 100%). Additionally, medium DPI (120 DPI or 110%) is supported to ensure an optimal experience for 110% scaling.
Windows:U.K. version
Regional Settings are supported when set to English (United Kingdom) with keyboard setting to U.K. only
Administrator Rights required for the server computer when hosting Multi User Access
Natively installed
Disk space requirements:
2.5 GB of disk space (additional space required for data files)
Additional software: 250 MB for Microsoft .NET 4.0 Runtime, provided on the QuickBooks CD
Additional requirements for Intuit Data Protect in QuickBooks Connected Services offerings
Require minimum 2.0 GB Ram
Twice the size of the largest File set to back up + 100MB or twice the size to restore. The space is only required from the work folder LocalApplicationData+ "Intuit Data Protect"
Software compatibility
Microsoft Office:
QuickBooks Pro has been tested with the following firewall and antivirus products.
Note: In some cases, it may be necessary to adjust settings in these products to ensure the best possible performance with QuickBooks.
Office Integration
Office 2016 (including Outlook 2016) both on 32 and 64-bit
Office 2010 and Office 2013 and 365 (including Outlook 2010 and Outlook 2013) both on 32 and 64 bit. Note: Office 365 is only supported when it is locally installed, not the web version.
Email Estimates, Invoices and other forms with Microsoft Outlook 2010-2016, Microsoft Outlook with Office 365, GMail, Yahoo! Mail and Outlook.com, other SMTP-supporting e-mail clients
Preparing letters requires Microsoft Word 2016, 2013, or 2010 or Office 365 (includes 64-bit)
Exporting reports requires Microsoft Excel 2016, 2013, or 2010 or Office 365 (includes 64-bit)
Contact Synchronization with Microsoft Outlook requires Outlook 2010 (32-bit)
Synchronization with Outlook requires QuickBooks Contact Sync for Outlook (the download is available at no charge). Contact Sync does not work with the Microsoft Business Contact Manager Outlook plug-in. If a sync is performed, duplicate records could result