MTD compliant version of Intuits desktop accounting software.
QuickBooks Desktop Accountant 2019 includes all the features in Quickbooks Pro with some extras.
Features:
Desktop Edition (Install on Win 7,8,10)
• Subscription
• Priced per User
• Unlimited Companies
License changes
This product is a subscription offering. (It is NOT a perpetual license.)
Extra Features in QuickBooks Accountant
Save time with powerful tools found only in Accountant Edition
Batch Transactions
In our opinion this is the main reason you should consider getting QuickBooks Accountant.
Paste transactions from Excel such as sales invoices, record several bank payments at once, enter multiple supplier bills or credit card charges. We use it ourselves and really helps us work at lightening speed.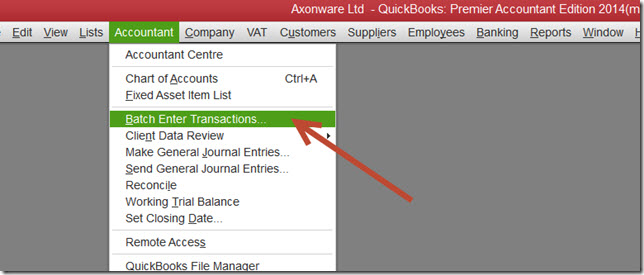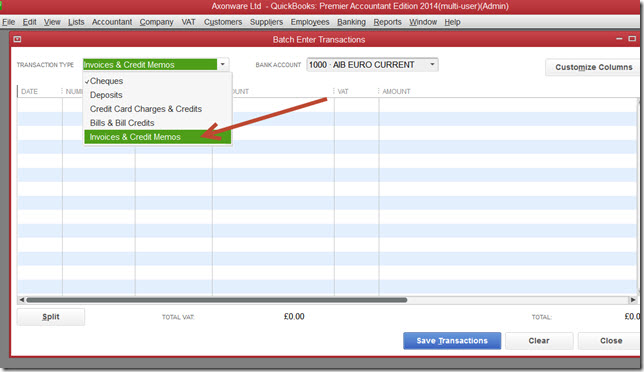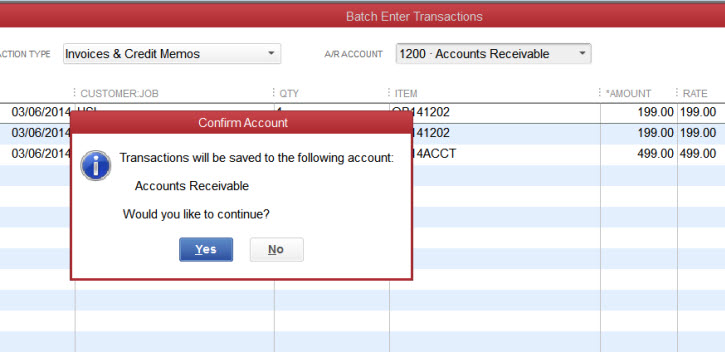 – Accountant Centre
– Send general journal entries
– Find and fix client errors quickly
– Work in two company files at once
– Collaborate efficiently and effectively with your clients i.e. make changes to a copy of their data file and send them back for client to import (.QBY file or just email a .QBJ journal file)
– Use the master programme for accountants
– Client data review tool
– QuickBooks Statement Writer
– Switch between QuickBooks editions
– Working trial balance
– QuickBooks File Manager

Hugely Improved Reporting Layout – QuickBooks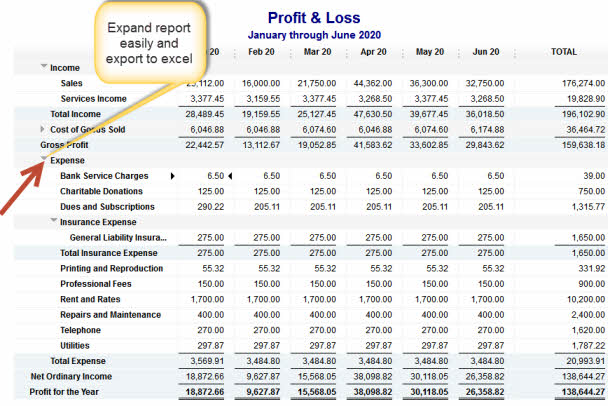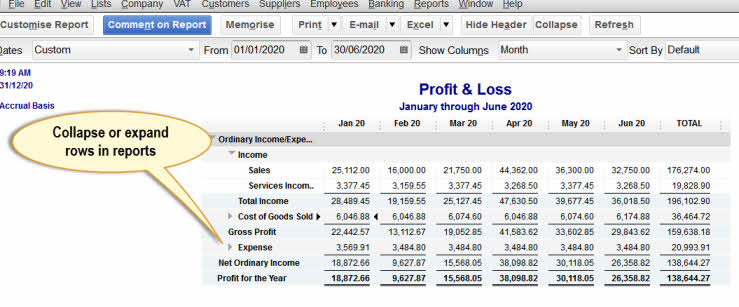 Add Comments to Reports – for Collaboration / Action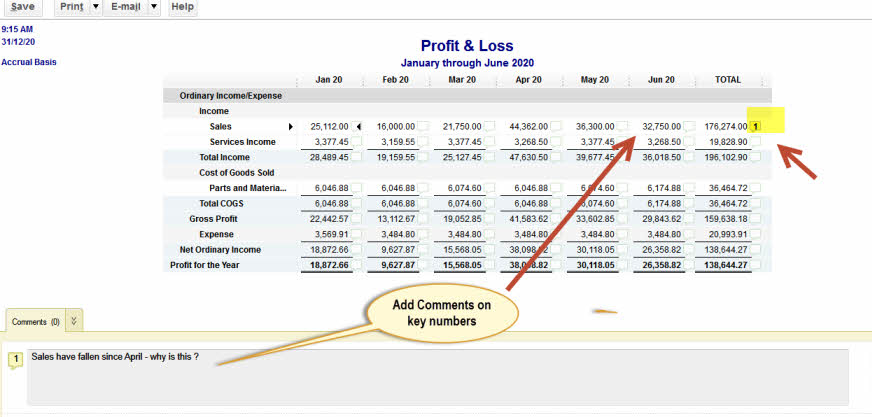 Client creates an Accountants Copy for you to work on: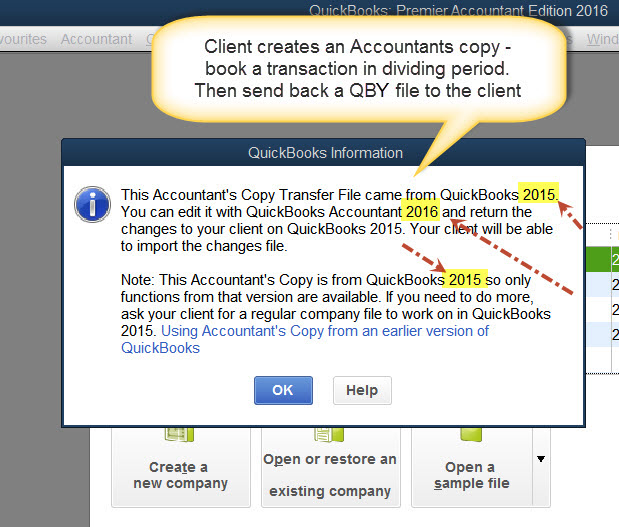 Make changes on behalf of your client and then your client imports them to his data file


Improved CRM type Functionality
Now in QuickBooks you can log last call event, last document sent, last correspondence. You can even set follow up actions/ to dos. While it's not a fully fledged CRM system – it's certainly offers a lot of what's really required.
You can also get a review of what you and colleagues have as open/urgents to-dos.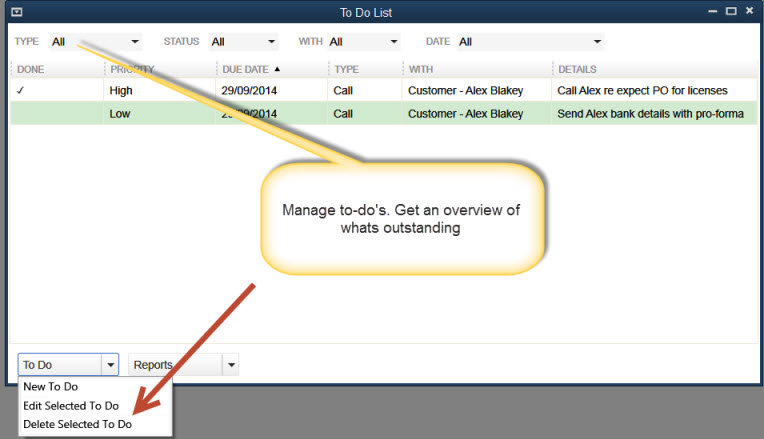 QuickBooks Desktop System Requirements
• QuickBooks Pro, • QuickBooks Premier and • Premier Accountants Edition.
Operating systems supported
• Windows 10,8.1,7 SP1 all editions including 64-bit, natively installed
• Windows Server 2016, 2012 R2, Windows Small Business Server 2011 R1, Small Business Server 2008 SP1
• Windows Server 2008 R2, Windows Server 2008, and Windows Server 2003 (SP2), including 64-bit, natively installed

XP/Vista and MAC not supported
Database Servers:
Windows: Windows Server 2016, Windows Server 2012 R2, Windows Server 2011 SP1, Windows Server 2008 R2 SP1, Windows 10, Windows 8.1 (update 1) or Windows 7 SP1 (Enterprise and Professional editions only), natively installed. Linux: When using QBES Database Server-only installation – OpenSuse 42.2, Fedora 25, Red Hat 7 (Update 3)
Hardware and operating system requirements (client and server)
• 2.4 GHz processor minimum
2.5GB of disk space (additional required for data files) • 4 GB RAM minimum
• Display optimized for 1024 x 768 screen resolution or higher with up to 2 Extended monitors
• Best optimized for Default DPI setting (96 DPI or 100%). Additionally, medium DPI (120 DPI or 110%) is supported to ensure an optimal experience for 110% scaling.
Windows:U.K. version
Regional Settings are supported when set to English (United Kingdom) with keyboard setting to U.K. only
Administrator Rights required for the server computer when hosting Multi User Access
Natively installed
Disk space requirements:
2.5 GB of disk space (additional space required for data files)
Additional software: 250 MB for Microsoft .NET 4.0 Runtime, provided on the QuickBooks CD
Additional requirements for Intuit Data Protect in QuickBooks Connected Services offerings
Require minimum 2.0 GB Ram
Twice the size of the largest File set to back up + 100MB or twice the size to restore. The space is only required from the work folder LocalApplicationData+ "Intuit Data Protect"
Software compatibility
Microsoft Office:
QuickBooks Pro has been tested with the following firewall and antivirus products.
Note: In some cases, it may be necessary to adjust settings in these products to ensure the best possible performance with QuickBooks.
Office Integration
Office 2016 (including Outlook 2016) both on 32 and 64-bit
Office 2010 and Office 2013 and 365 (including Outlook 2010 and Outlook 2013) both on 32 and 64 bit. Note: Office 365 is only supported when it is locally installed, not the web version.
Email Estimates, Invoices and other forms with Microsoft Outlook 2010-2019, Microsoft Outlook with Office 365, GMail, Yahoo! Mail and Outlook.com, other SMTP-supporting e-mail clients
Preparing letters requires Microsoft Word 2016, 2013, or 2010 or Office 365 (includes 64-bit)
Exporting reports requires Microsoft Excel 2016, 2013, or 2010 or Office 365 (includes 64-bit)
Contact Synchronization with Microsoft Outlook requires Outlook 2010 (32-bit)
Synchronization with Outlook requires QuickBooks Contact Sync for Outlook (the download is available at no charge). Contact Sync does not work with the Microsoft Business Contact Manager Outlook plug-in. If a sync is performed, duplicate records could result